Environmental Consulting Throughout New England
Asbestos • Lead •

Indoor Air Quality

• PCBs & Mercury • Mold
---
Contact:
Eric Hanson at 603-630-3680 or
ehanson@smithwessel.com
---
Since we spend most of our time indoors, it makes sense that the indoor environment can have a substantial effect on our health and comfort. Occasionally, problems arise regarding the quality of the air we breathe. When this happens, it is extremely important to have the problem analyzed by competent and certified professionals.
For over 12 years, Smith & Wessel has been helping find and resolve problems related to indoor air quality.
Mold and other allergens
Our inspectors are trained in the latest sampling methods and protocols for moisture and mold investigation. Our services include:

Verification of growth
Source of mold & moisture
Identification of mold types
Air and surface mold testing
Recommendations for removal
Creation of removal specifications
Post-removal assessments
We also test for other indoor allergens or pathogens, including:

Bacteria
Pollen
Dust and dust mites
Pet dander
Insect-related allergens
Irritant odors and VOCs

Irritant odors in the workplace and home can be caused by many different chemicals and can come from various sources. Furnishings, construction materials, and consumer products are responsible for off-gassing these volatile organic compounds (VOCs) into the indoor environment.
Using state of the art technology (such as RAE Systems PPb RAE shown above), we are able to investigate these irritant odors, find the contaminant source, and make appropriate recommendations.
Basic Human Health Factors
Often, complaints of poor indoor air quality can be attributed to insufficient ventilation resulting in basic comfort factors falling outside recommended guidelines. Our indoor air quality assessments include testing of the following:
Carbon monoxide (CO), an extremely toxic by-product of combustion
Carbon dioxide (CO2)
Temperature
Relative humidity
These readings can assist in determining expected human comfort and health within a particular indoor environment.
HVAC Investigation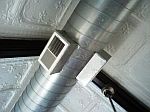 We evaluate potential problems with the design, function, and performance of the heating, ventilation, and air conditioning system including an evaluation of its potential to act as a conduit for outside contaminants, carbon dioxide, and carbon monoxide.
Further, we check filters for particle and microbial build-up, sizing, installation, and effectiveness. Condensate drain pans, if not regularly maintained, can be a major source of mold and bacterial growth. Similarly, cooling coils, if not cleaned, can foster microbial growth and introduce contaminants into the indoor environment.
Our certified inspectors perform thorough inspections of these systems in order to determine their effect on indoor air quality.
Moisture Assessment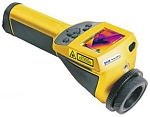 Because excess moisture is one of the chief causes of microbial growth, we take it very seriously and use the most state of the art instrumentation to search it out. We have various methods for detecting wet building materials, including the use of infra red camera devices that quickly and accurately help locate potential problem areas.
FUR Infrared Camera
---
Please call or e-mail today!
Zachary Keefe, Certified Indoor Environmentalist (CIE)
978-346-4800
zkeefe@smithwessel.com
---